SIPTU College offers training under three broad headings namely:
Union Activist Training; Educational Programmes and Politics & Activism.
You can read more about each of them below.  For now however, during Covid restrictions, many of these courses can only be offered remotely via Microsoft TEAMS or Webex.  Here are some of those currently available: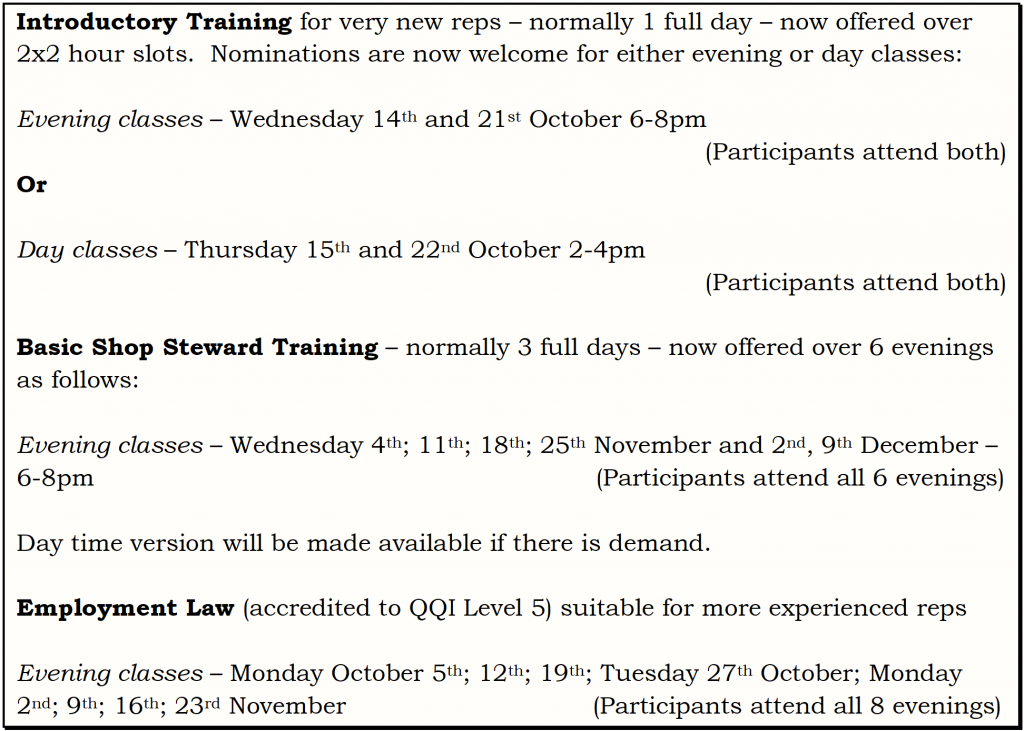 Please contact your SIPTU Organiser if you are interested in attending any of these courses.
SIPTU College offers a broad range of courses to the membership, activists and staff of SIPTU and in some cases to the members of other trade unions affiliated to the Irish Congress of Trade Unions.
Courses for activists/shop stewards are offered at 3 levels; Introductory, Basic and Advanced.  Advanced courses often attract a QQI Level 5 award. See below for more details.
In addition to training activists, SIPTU College also offers educational programmes, starting with
Basic English (QQI Levels 3 and 4);
Jump Start  (suitable for those starting a Level 5 course);
Skills for Work courses in partnership with the ETB;
Return-to-Learn (suitable for those starting a Level 6 course)
and the ICTU/SIPTU Trade Union Studies Certificate programme which leads to a QQI Level 6 award.
In addition to education and training, from time to time SIPTU College also offers more political training aimed at senior activists and staff.  There is one such programme currently being offered called Educate to Organise
Others in this series include Lobbying Skills and Labour Academy.